Crisp Country Acres Farm Store
Your convenient, one stop shop for local food.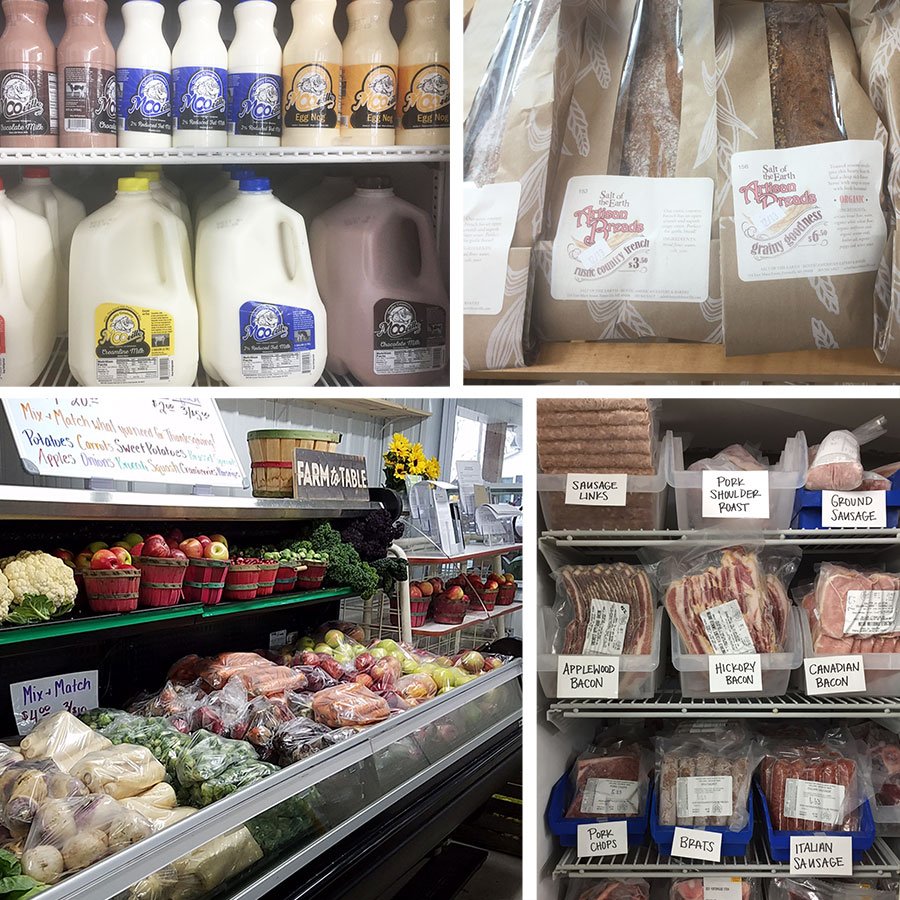 FARM STORE – OPEN YEAR ROUND
Open Monday – Friday | 8am – 6pm & Saturday | 8am – 5pm.
Our farm store is conveniently located just north of Holland. The address is 5888 120th Ave, Holland, MI 49424.  We carry a wide range of products.  Along with a wide variety of produce, we also have eggs, honey, canned goods, and hand-crafted toys.
You will also find...
Beef and pork raised by our brother Rob.
Chicken from Otto's.
Preservative free bread from Salt of the Earth.
Milk, cheese and ice cream from Mooville.
Quiche, Tarts & Brownies from Bakewell.
Kettle Corn from Big Mike's.
Pies & Cinnamon Rolls from Russ'.
Pig in the blankets from Timberwood Farms.
We accept cash, check and credit card. Stop by soon and see all that we have available!
I grew up in a home that was unable to afford fresh fruit and vegetables. We ate everything out of a can or the freezer. When our oldest daughter was diagnosed with severe anxiety at 3 years old, as her mother I knew we had to change the way we ate. I started researching how food affects children. Being a young family we could not afford organic or grass feed beef. My husband came home from work one day and informed me that his work would be offering a Community Supported Agricultural(CSA) at work through a farm in Holland, named Crisp Country Acres. I  immediately got on-line and checked their farming practices. Unlike other CSA farms in our area, they did not require us to volunteer. The produce was not organic, but they do their best to use farming techniques that reduce the use of pesticides. Something that we wanted to reduce for our daughter. That was 7 years ago. We moved from Muskegon to Holland 4 years we no longer participate in the CSA, but the Farm Stand Credit instead. This option has been great for my family. Crisp Country started Farm Stand started in a modified shed with no air conditioning or heat. The workers faithfully worked through summer and winter to sell produce to it's costumers. Last year they were able to add a produce store onto their barn. Walking into the store is like stepping back in time. You are immediately greeted with a smiling face, it feels good to be treated as family. In the store you will find produce, various cuts of pork and beef, chicken, milk, cheese, ice cream by the gallon, various dairy products, honey, jarred jellies, maple syrup, and bread. Winter is hard to have fresh produce. My favorite thing in winter is fresh lettuce and tomatoes for salads, grown in the green house. Nothing like a farm fresh salad in the middle of winter. We often buy apple seconds to make our own applesauce. My children love the Mooville milk. Eating seasonally has made a significant difference in the health of my family. I tell them all the time how blessed they are to be able to eat fresh food raised on the farm. I consider Crisp Country part of my family.