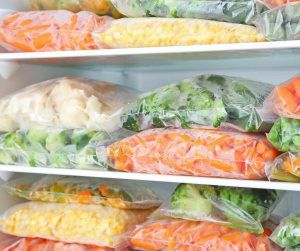 Freezing is a great way to preserve all of your summer favorites to enjoy in the summer months.
Here is how to freeze your produce: 
Step 1:  Wash and cut up veggies.
Step 2:  Blanch Veggies,  see below for how to blanch.
Step 3. Place veggies, single layer, on wax paper lined baking sheet and freeze.  Transfer the veggies to a freezer bag or container.  Label and place in freezer.  Frozen produce can be stored for 8 – 12 months.
How to Blanch:
Step 1:  Fill pan with enough water to cover the veggies & boil.
Step 2:  Add produce, cover & boil for needed time.  Each veggie is different!
Corn: 4 minutes. ( Make sure corn cools down before removing kernels with a knife)
Beans:  3 minutes.
Zucchini: 3  minutes. (If you want to freeze zucchini for baking, you don't need to blanch it.)
Broccoli: 3 minutes.
Cauliflower: 3 minutes.
Carrots: 3 minutes.
Step 3:  Once done drain and place veggies in ice water bath for the same length of time as you needed to boil.
Step 4:  Drain and pat dry veggies with towel.
**Note that veggies like tomatoes, peppers & onions do not need to be blanched!  Here is more information on how to freeze tomatoes & peppers/onions.
Now is the perfect time to freeze produce for next winter.   Stop by one of the markets soon to pick up all of your favorites!